HOW SAFE IS YOUR HOME? Wood Vs. Steel
One home in Britain is burgled every 37 seconds. People assume that by having extra-strong locks they will be safe. But wooden doors are just not strong enough and are simply being forced open. We quite often find the very expensive locks that have been fitted to the door, on the floor in perfect condition.
Our door uses a unique registered locking system in which 21 hard-steel bolts around the edges of the steel door simultaneously engage into solid steel door-frame. To activate the locking system the key is turned in the locks 3 times – each turn more deeply engages the bolts into the frame.
This only takes 6 seconds, which is equivalent to two locks on your wooden door being locked separately.
Which door would you prefer to have to keep a burglar out? On the left is an actual burglary image, showing a wooden door smashed in. An approach we commonly see. On the right is our Titan Steel Door.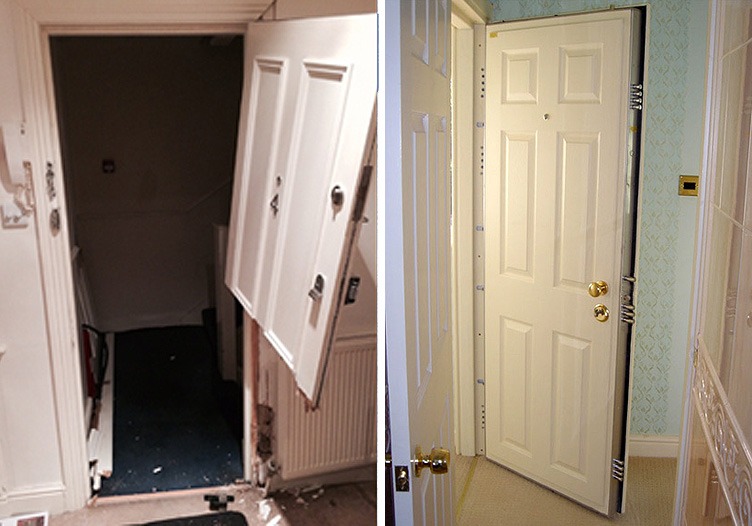 For maximum security and optimum strength, we use a modified fitting technique for partition based walls. Partition walls consist of cladding material, typically plasterboard mounted on wooden battens which form the core of the wall.
The hardwood frame battens into the wall with 8 steel bolts (each 10mm thick). A special expandable liquid is then used to fill the wall cavity space around the frame and sets rock-hard in 1 hour. This inner hardwood frame is covered with steel outer frames to increase its strength even further. We readily construct your door to customised sizes at no extra cost.
Our Titan doors can be designed to open inward or outward and with hinges on left or right. Because these doors are steel they will not warp or rot and require much less maintenance than a conventional wooden door and frame.
Our fitting service includes a disposal of your old door and frame.


Here we see the result of a sustained attack on one of our TITAN steel doors during an attempted break-in.
As you can see, there is only minor cosmetic damage to the door fascia, lock surround and frame.
Please note, that all damage caused by a burglary, even attempted burglary should be covered on your building insurance.
In this case, the customer's building insurance replaced the door on a like-for-like basis with no charge to the occupier.
The attempt was completely unsuccessful in that it failed to cause significant structural damage to the door and the burglar failed to gain entry into the premises.
Without any doubt, if this was a wooden door and frame even with quality locks fitted, with the force that was used against the door, this would have not been an attempted burglary but a burglary.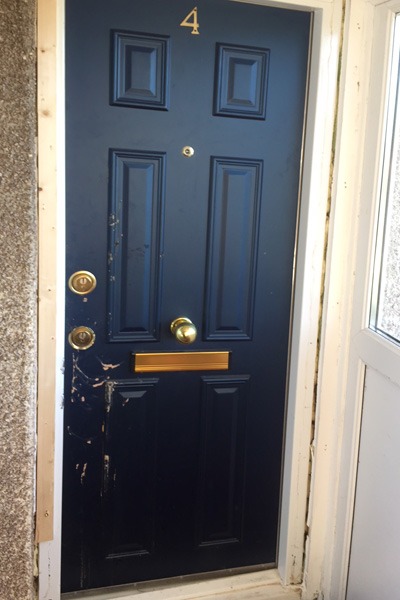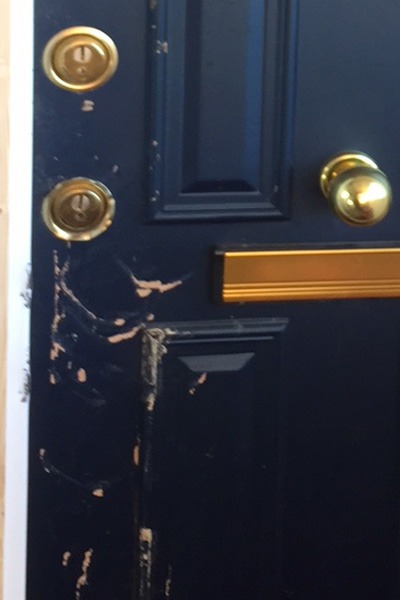 High Security Door Benefits