EMERGENCY SAME DAY WOODEN DOOR REPLACEMENT Call For Immediate Response Tel.:0800 731 5463
Have you had a BURGLARY or your door has been forced open? Do you need your door repaired or replaced TODAY? 24-7 service
Same-day emergency door repair & emergency door replacement from our expert locksmiths
Regain your sense of security after a burglary 
PROTECT YOUR PROPERTY FROM FUTURE BURGLARIES
If you need a burglary repair today, we provide the same day emergency door replacement, frame replacement or any emergency door repairs for your home or office.
Any burglary damage is normally covered by your building insurance. And therefore you are entitled to have a temporary door fitted while a copy of your original door is being made and the insurance will cover the cost of both doors.
Not only as a temporary door, we install a SOLID HARDWOOD DOOR.  Although panelled doors look attractive, they are weaker and less secure, therefore we do not fit them. Instead, we supply doors with beading to simulate the panelled appearance.


KEY FEATURES & SPECIFICATIONS
3  x high-security cylinders for extra support       against break-in
              – 1 x high-security night latch
              – 2 x high-security mortice deadlocks               
              – Registered security keys
 3 x stainless steel butt hinges that the door is hung on                                    

 2 x hinge bolts

 2 x lock guards

 1 x security RIM case

 2 x steel frame reinforcement strips                             to strengthen the wooden door frame to resist 'kick in' type attacks and forced entry   

            

 Door viewer + Letterbox can be added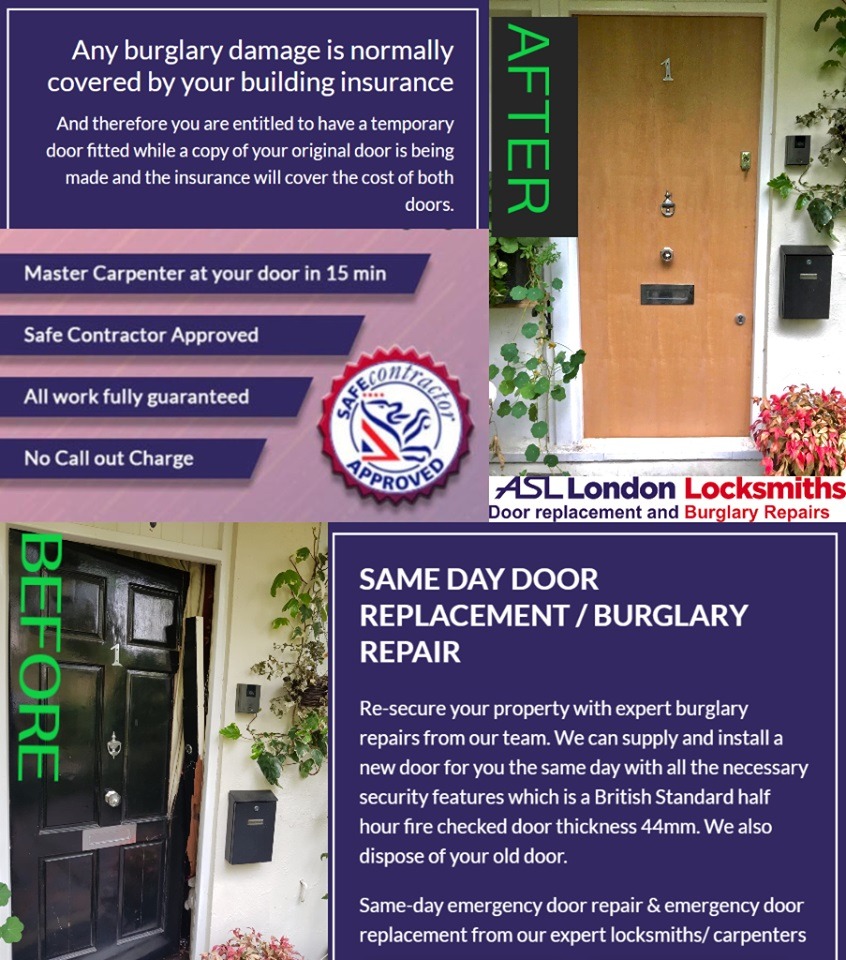 Able to replicate original design by adding a panelled effect
 Secure against forced entry and adheres to the British Standard half-hour fire check – thickness 44mm
 Door frame replacement or repair if damaged
 Disposal of your old wooden door & frame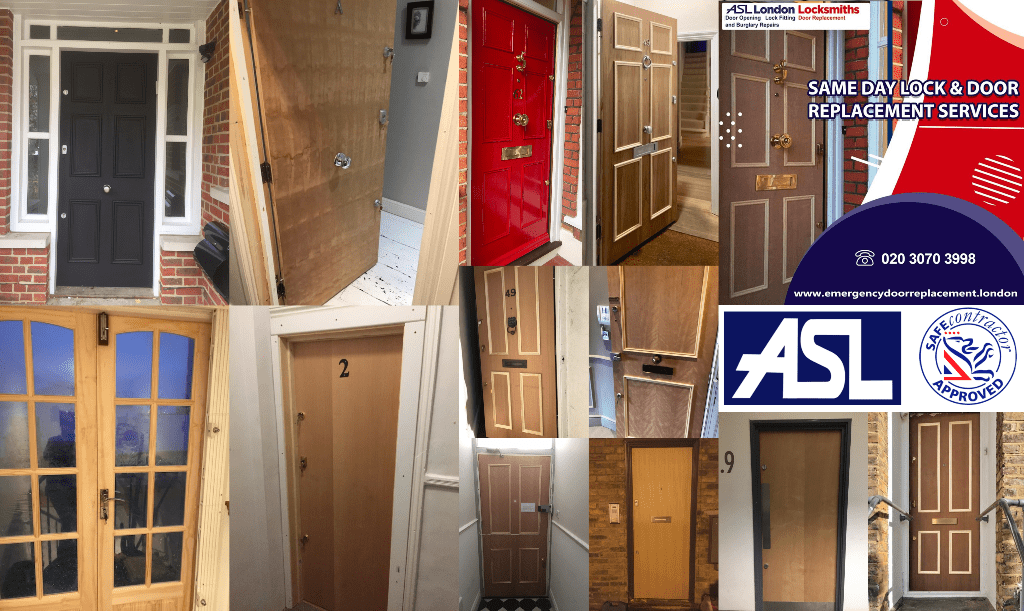 It is crucial to have a strong door and locks installed, especially after a burglary.
Below, on the left, is the original door after a burglary. Note how the wooden door has been smashed around the lock.
On the right is the replacement hardwood door which ASL installed, showing how we built a door which closely resembled the original door, but is far stronger, laminated with a solid core hardwood centre that adds to the overall mass of the door, and also offering fire resistance to 30 minutes.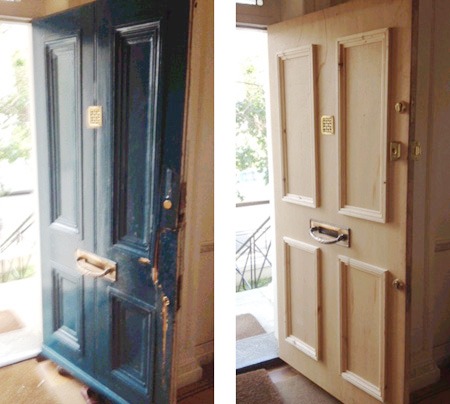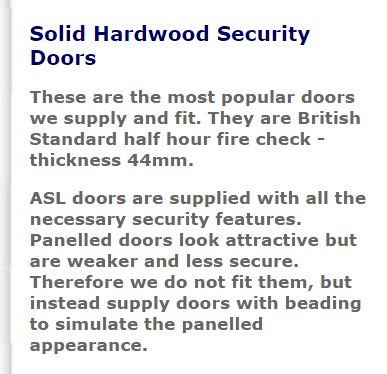 We can match the look of your original door by installing beading to give the impression of panels while retaining the strength of an integral solid-core hardwood door (with a steel plate if desired), rather than the structural compromise of building a weaker door with thinner inset panels. We can customise the design and include customised door furniture, plus we offer the security of three locks.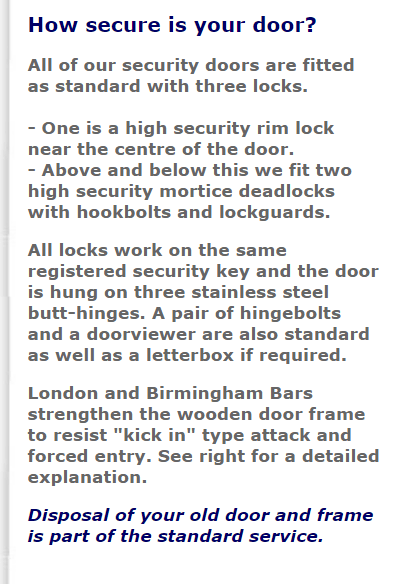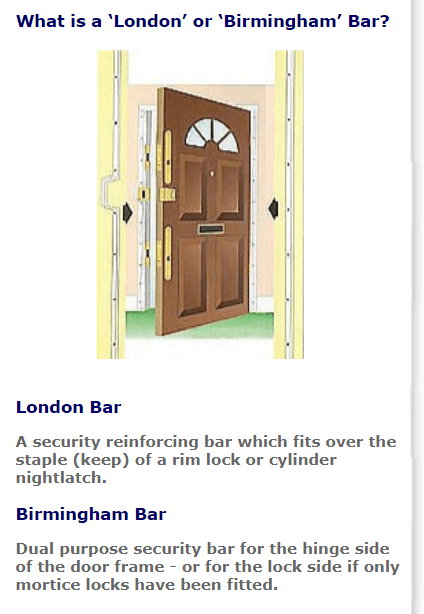 Below, you can see one of our security wooden doors. On this occasion, we have installed this door after the original door was forced open due to a burglary.
As the criminals feel comfortable because they already know the layout, they often return to the same place. But this time they were confronted with our door and as you can see, they tried their very best, but they could not force the lock and the door itself stayed firm preventing entry. Therefore, they burglarized other apartments in the building.
Please note, all of our security doors are fitted as standard with three locks.