NEW DOOR INSTALLATION
in Nottingham
FRONT OF THE DOOR: 

                                                              6
panel American design with wood grain finish painted gloss RAL 9010 Pure White 
BACK OF THE DOOR:

                                                          Natural Oak veneer, design to match the rest of the doors in the apartment
accessories  chrome 
The criteria from Will, our customer, was to match the same design from the inside to the rest of the doors in his apartment.
On the other hand, design on the outside had to match all the doors in the building which we have achieved. 
Both our customer and us are in love with this door .
Please scroll down to read Will's review.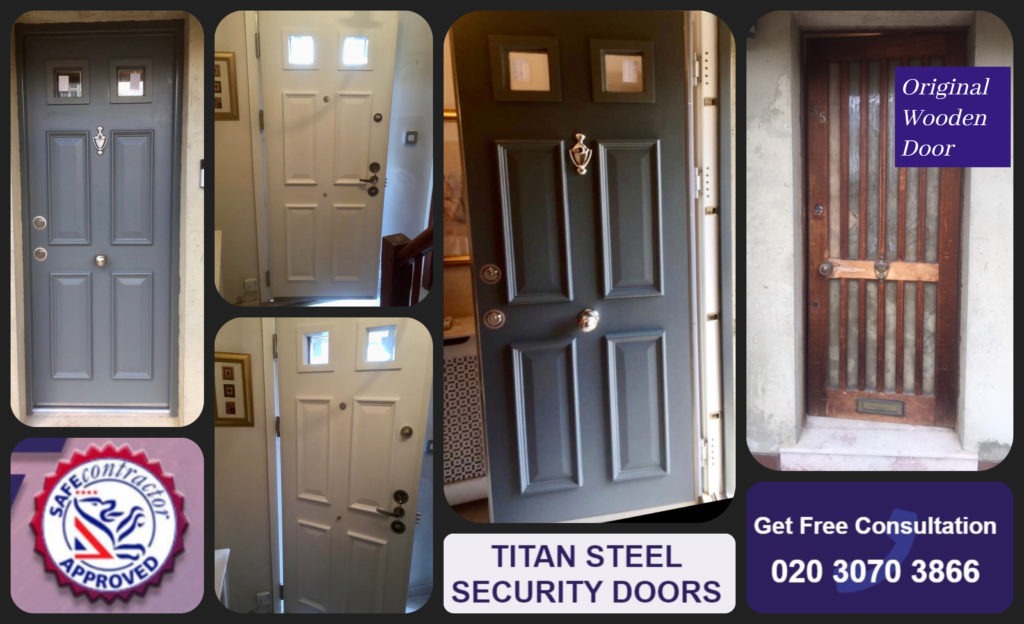 BEFORE & AFTER
in Maidenhead
Matt RAL 7010 Tarpaulin Grey on the outside of the door
Matt RAL 9010 Pure White colour on the inside
Security Glass installed in top two panels
Chrome Accessories
NEW INSTALLATION

IN CHELSEA SW3
Colour inside and out:
MATT RAL 9010 PURE WHITE
CHROME ACCESSORIES:  Door viewer + door knocker                Door knob          Chrome locks with registered security keys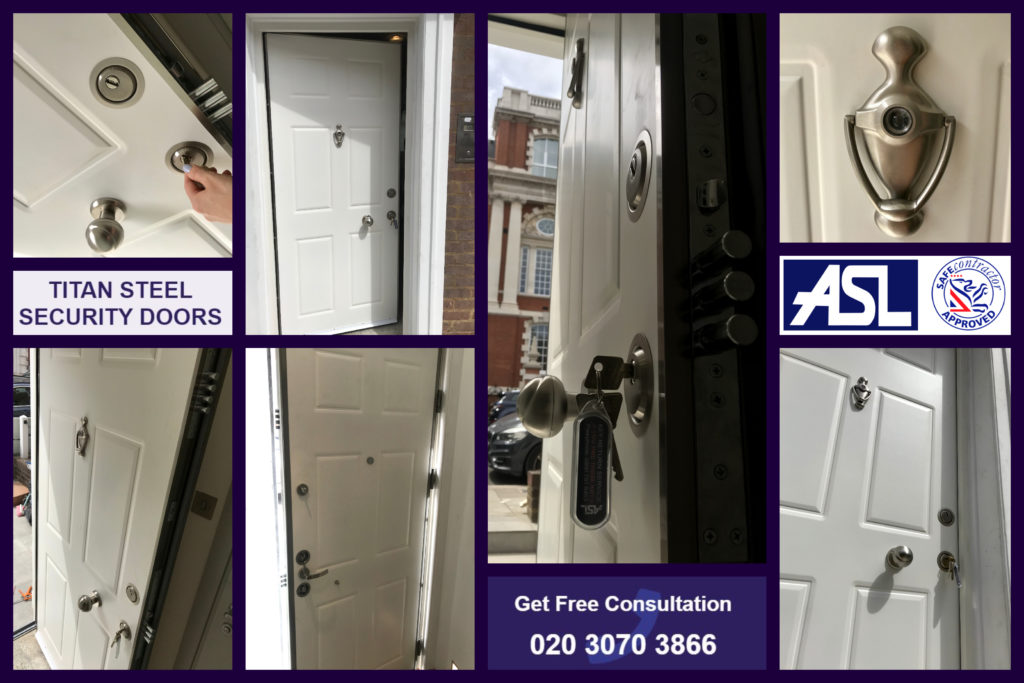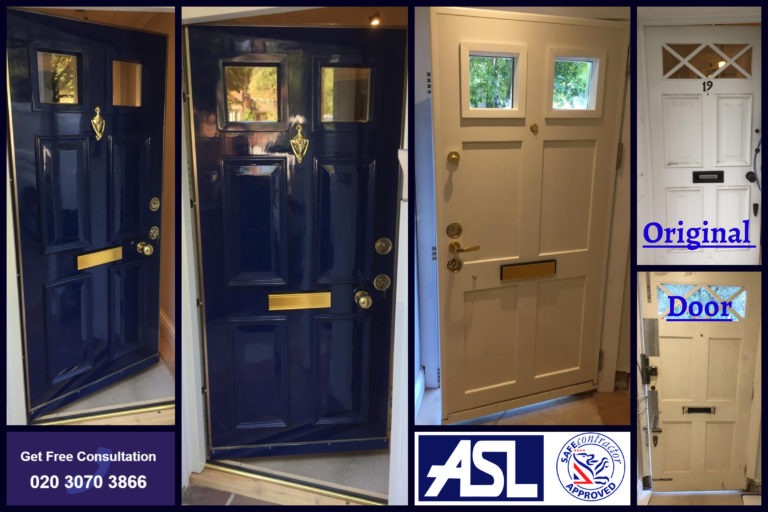 BEFORE & AFTER
in Holland Park, London, W14
COLOUR OUTSIDE:
Gloss dark cobalt blue colour RAL 5013
COLOUR INSIDE: Gloss white RAL 9010
Brass accesories
security glass installed in top two panels
Most of our customers are realizing that any locks fitted to a wooden door is just not going to keep criminals out. That's why they are investing in our Titan Steel Security door with 21 bolt locking system, locking into a steel frame. THIS IS THE DOOR THAT BURGLARS DO NOT WANT TO COME ACROSS.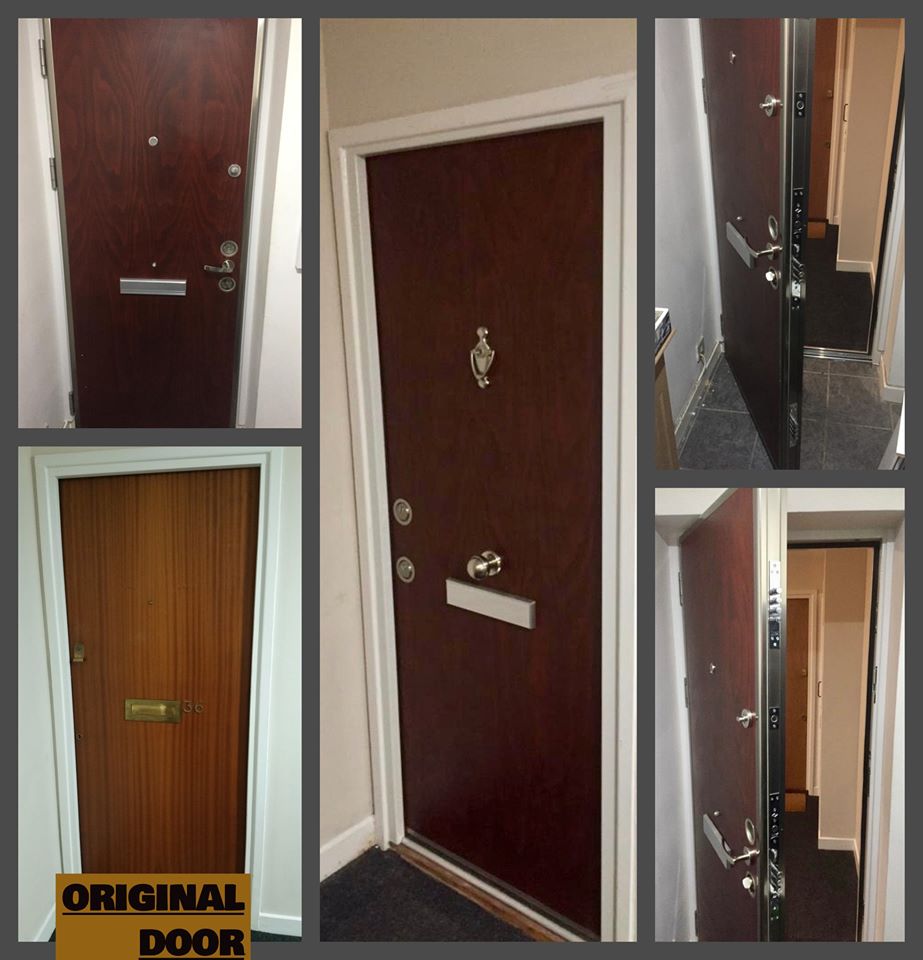 BEFORE & AFTER pictures of an apartment door we have replaced with our Titan Steel Security door in London, SE26
It has a steel core with a steel frame and is cladded in a luxurious wood in this case Walnut-Hazelnut.         
The criteria given was that it had to match the design of the old door, but now has the strength of a Safe Vault.
We are a local authority approved contractor & European Certified.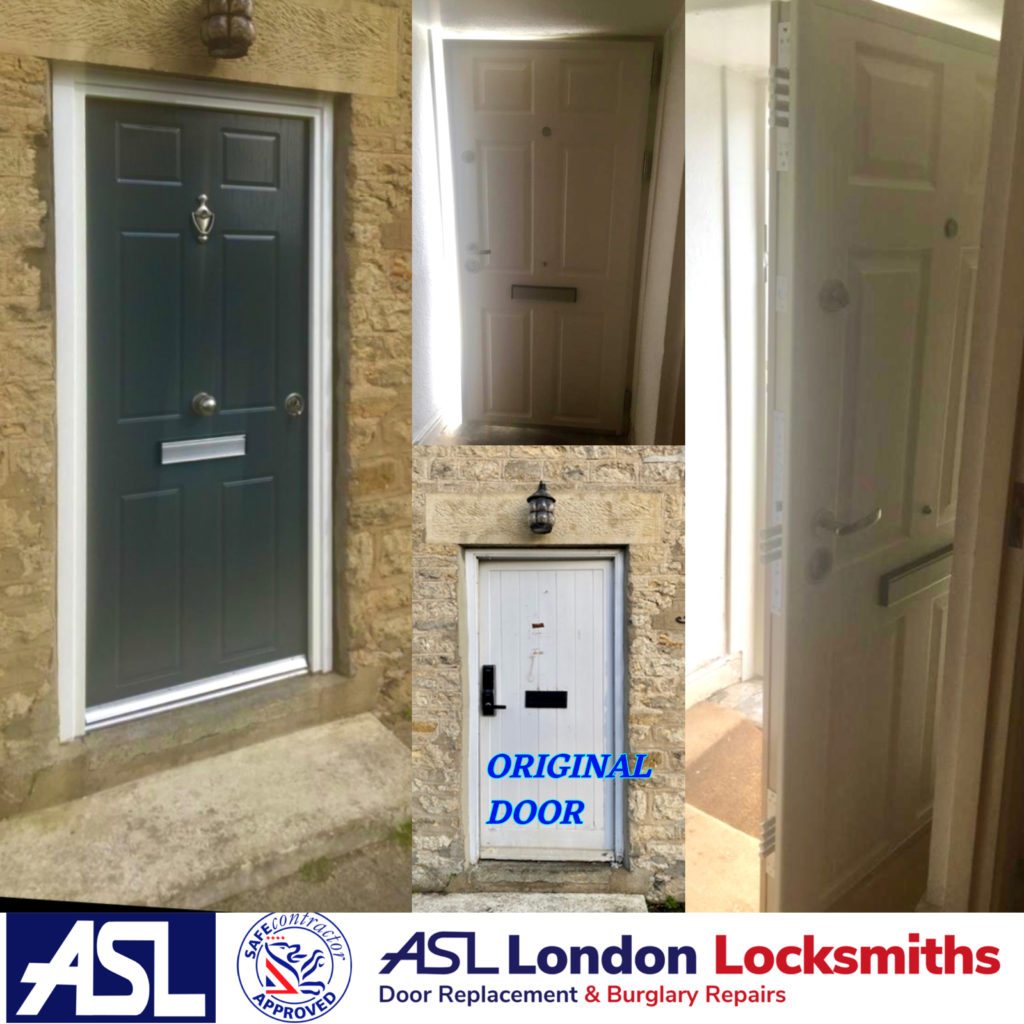 NEW DOOR INSTALLATION in the english countryside
Model of the door is TW2 grained americal panels with a luxury wood finish the gloss RAL colour 7043 traffic grey B  and matt RAL 9010 pure white on the inside and c

hrome accessories.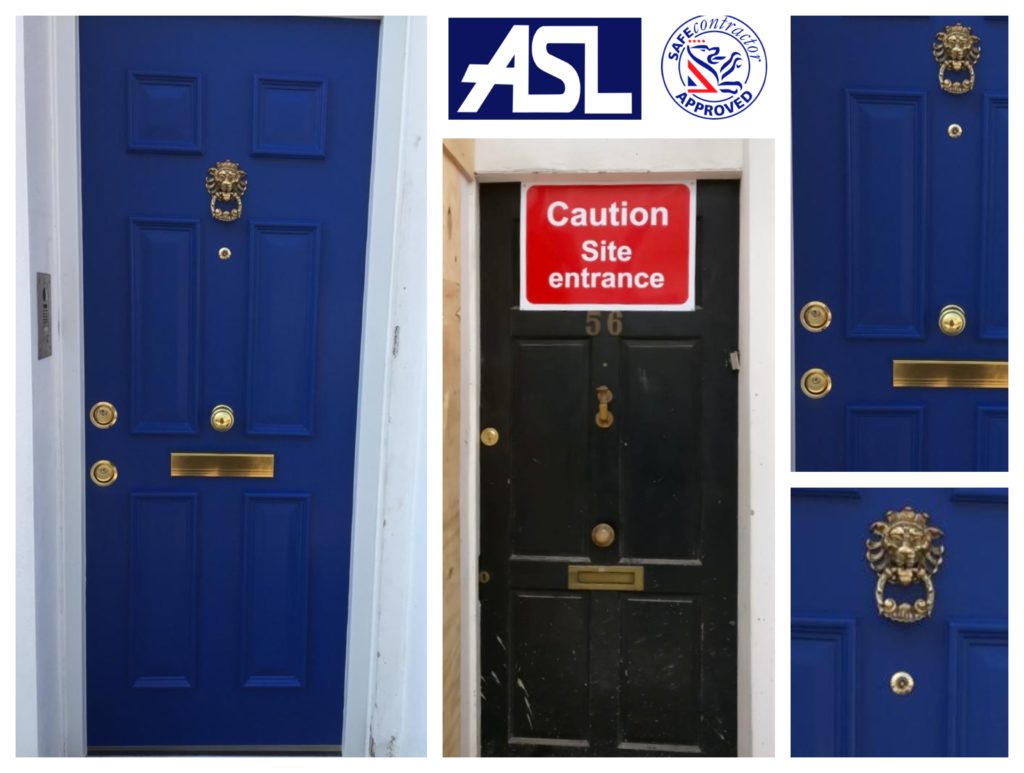 BEFORE & AFTER installation in Pimlico, London, SW1V
Apartment Titan steel door  installed in Primrose Hill, London, NW8
Original wooden apartment door was forced open in the afternoon attack even though it had Banham locks installed.
If your door is weak, installing the best security locks will not make a difference.
Outside colour: matt Tarpaulin Grey RAL 7010 with smooth finish
Inside colour: gloss Pearl White RAL 1013 with smooth finish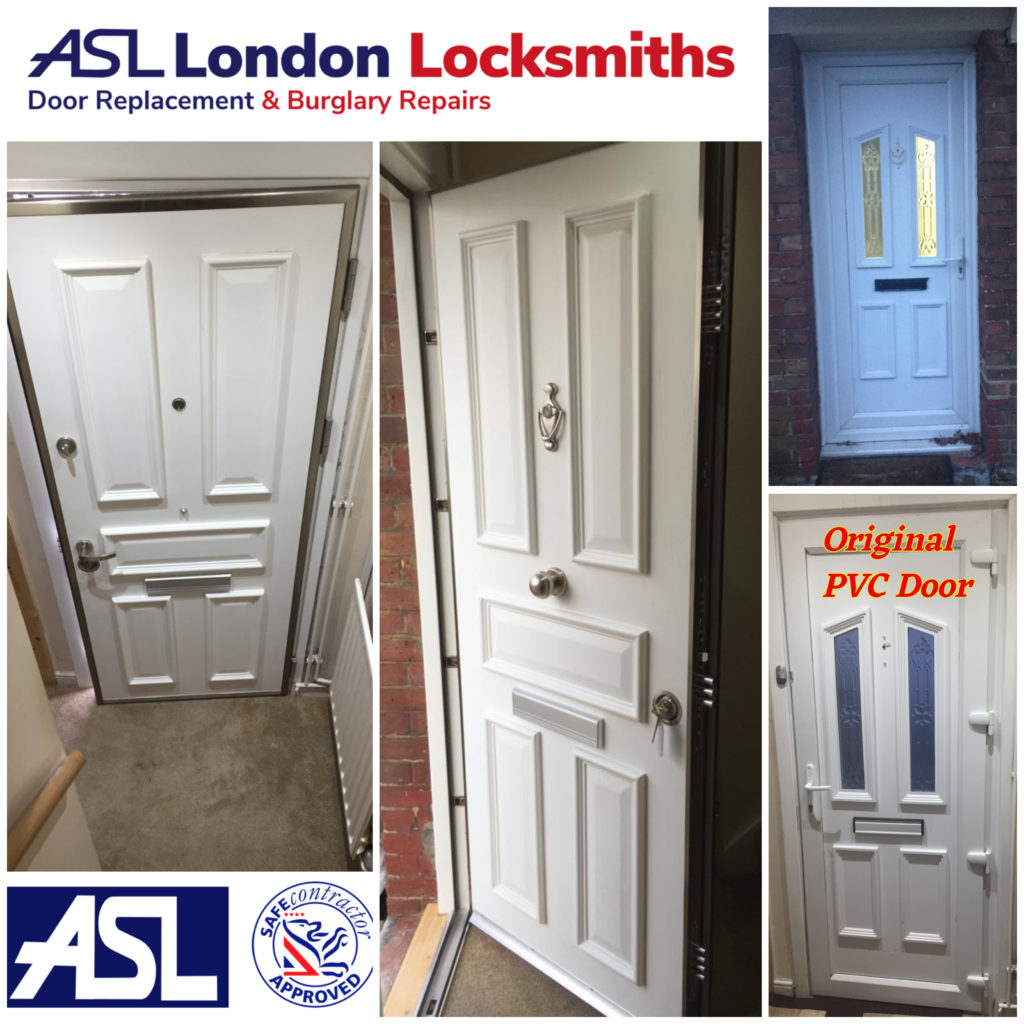 Our latest door installation in Woking, Surrey, GU21
where our customer realised that a PVC door is one of the lowest security doors you can get due to the fact that the whole central part can be easily kicked in.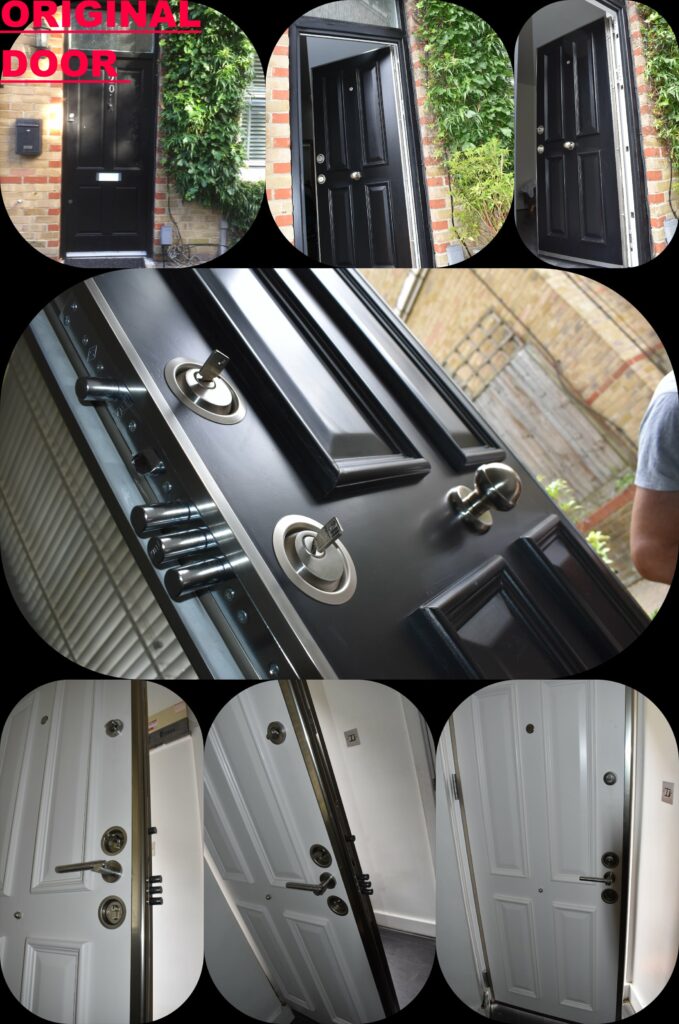 ASL's New spectacular door installed in Hampstead, London, NW3.
A lady of this house decided to upgrade her security after the terrifying experience we all dread.
After popping out to the shops only for 5 minutes, she came back to find burglars rummaging through her living room. Luckily, they run away being caught by surprise. Also, nothing happened to her dogs that were outside in the garden.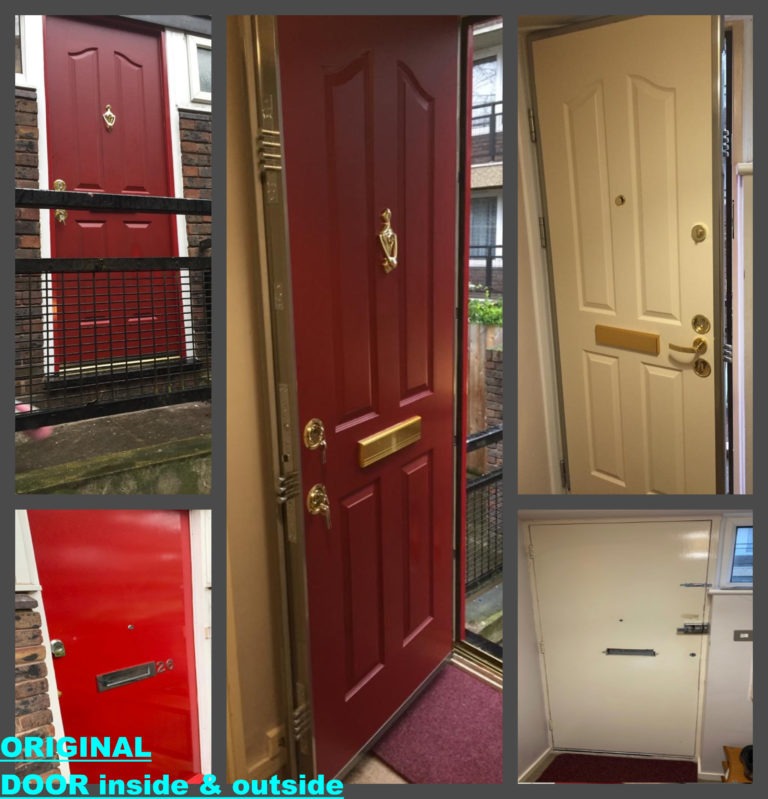 Our recent Titan Steel door installation in London, N19!

 
Our customer is very happy with the result and with the security that has been achieved. Not only does the door look amazing, but also its security has been enhanced tremendously.  👍
As you can see by the two bottom pictures, the original standard door is a chipboard door with 2 locks and could easily be kicked in by a potential burglar.Model of door is TA09 with a luxury wood finish the RAL colour 3003 ruby red and 1015 light ivory on the inside and brass accessories.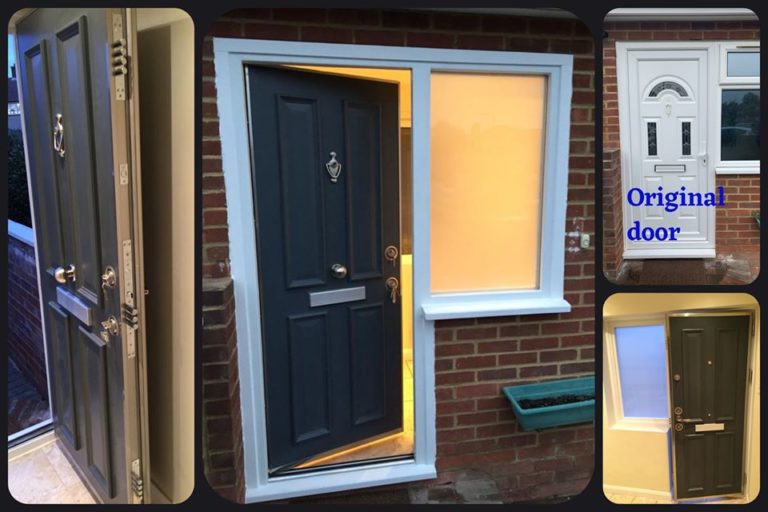 Before & After installation in Slough, England!

 
As our customer also wanted to replace the glass on the side of the door, we have extended the door frame, to make the overall structure stronger, to incorporate the glass on the right side of the door which we replaced with a sandblasted laminated security glass.
Colour of door: RAL 7011