BESPOKE DOMESTIC & COMMERCIAL DOOR / PANIC ROOM Level 3 & 4
All of our luxury Titan Steel Doors are bespoke therefore we can supply any size, colour and design of your choice. We can even match the design of your existing door if required.
TITAN STEEL DOOR SPECIFICATIONS
21-BOLT LOCKING SYSTEM which locks the door in 3 directions
GALVANISED FRAME 2mm thick with fibreglass insulation, WING FRAME composed of 3mm thick steel tube, WING SKELETON 1.5mm ribbed alloy steel with Rockwool insulation
IN THE FRAME – 8 STEEL BOLTS EACH 10mm THICK
SECURITY MECHANISM WHICH FIXES THE DOOR SKIN TO DOORCASE
COVERED IN LUXURY WOOD CLADDING
3 HIGH-STRENGTH STEEL HINGES placed in 3 points
DRILL RESISTANT CASING OVER LOCKS
2 REGISTERED SECURITY CYLINDERS – Registered keys cannot be copied without authorisation from the owner, 3 keys supplied
DOOR HANDLE, KNOB, KNOCKER, VIEWER
WE PROVIDE ANY SIZE, ANY SHAPE & ANY COLOUR OF THE DOOR
You do not have to be concerned that the door will look like a steel door. It has the appearance of a luxurious wooden door as both the outside and the inside is cladded in a wood finish.


In contrary, the finish of your door can be pure steel. This is all up to your preference and the purpose of the door. It can be for your office, home, flat, factory, fire escape door.


We can also provide a magnetic security lock, which can withstand a force of 500 + pounds ( a normal electrical release fitted to an intercom system can be forced open in a matter of seconds) & a door closer. Suitable for a Victorian House with several flats.
More and more often we are called to a burglary to a Victorian converted house when several flats have been broken into because of a weak front door that has been too easy to open and left all flats vulnerable. P

It is possible to have a security glass in the door, which is stronger and more secure than your ordinary glass, although we recommend as less glass as possible or ideally no glass at all because glass always compromises the security.


For further information, please, contact us directly on 020 3070 3866 or
by email at info@steelsecuritydoors.co.uk

As our door is made to measure, it takes about 4 weeks for the doors to be manufactured. Once your door arrives in London, we will carry out our quality control check again and then we will call you to arrange an installtion date. Don't worry as you do not need any preparation for the installation day, we take your door and frame away by ourselves and install your new Titan Steel Security door and frame. We make sure that everything sits in place nicely, therefore, we take about 5 hours to complete the installation.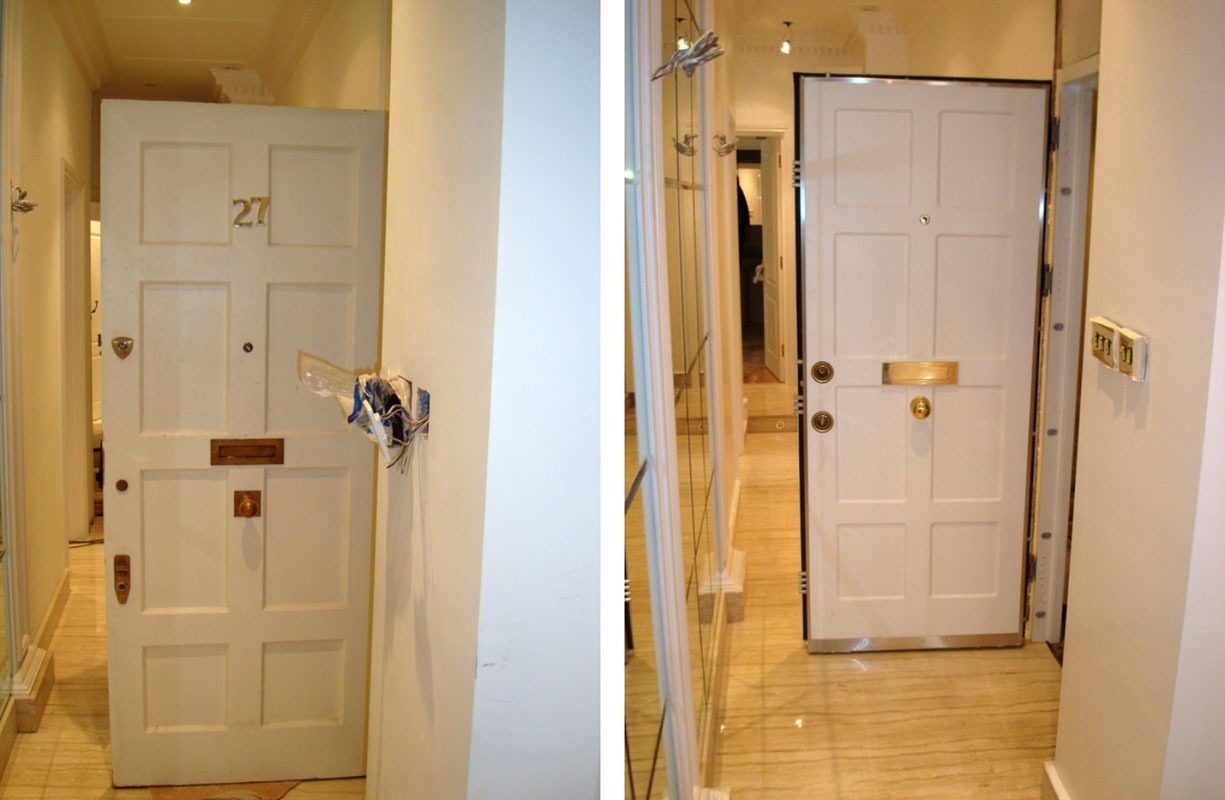 When it comes to steel security door, you really need a specialist that is available at any time.
IMPORTANT POINTS TO CONSIDER WHEN PURCHASING A STEEL DOOR:
Does the door comply with the Europe-wide fire resistance standard BS EN 1634-1? (which replaces the previous British Standard for fire resistance)
Is the door and locking mechanism made in the UK?
Does the security key come with a sidebar?
Telephone the company in the evening or at weekends to see if they are offering the service they promised should anything go wrong with the door locking mechanism e.g. An attempted burglary, etc. ?
This is important as we operate a 24-hour locksmith service we are able to send one of our professional locksmiths out if required, who will have knowledge of your locking mechanism.